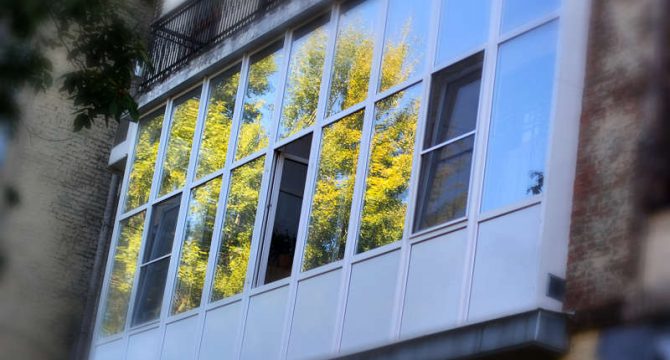 Architects are increasingly incorporating glass into their designs, offering the opportunity to connect indoor and outdoor spaces; helping to transform rooms into brighter, open spaces. However, substantial glass use in building design can be problematic when it comes to energy efficiency, with 10% of energy being lost through windows and doors. This means that large glass features were often not an option for those opting for a sustainable design. With sustainability becoming increasingly important to homeowners, glass manufacturers had to respond to improve energy efficiency and give customers peace of mind when incorporating glass features.
Due to glass having a high transfer coefficient, this means heat can easily pass through, making it difficult to regulate the heat of a room. Many occupants would require heat to be controlled through central heating or air conditioning systems, both using energy and has a negative impact on both the environment and the occupant's energy bills! As the public spends on average 80% of their time inside buildings, it was important to find the correct balance between letting in natural lights and reducing heat loss through the glass. Recent developments in glass manufacturing have allowed for improvements in glass energy efficiency; processes including double glazing, lamination and coating help towards sustainable living. All these processes help to improve thermal performance and offer a desirable option for sustainable designs.
Increasing incoming natural light for rooms not only improves the room aesthetic, but it also has sustainable benefits, as well as contributing to good health. Maximising light exposure reduces the need to use artificial lighting, which will in-turn also reduce a building's energy consumption. Natural light can also act as a natural disinfectant in the home, preventing the growth of harmful bacteria and organisms associated with illness. Although it has long been known that sunlight is associated with positive thinking, a study by Loyola University also found that natural light can help improve short-term cognitive powers, perfect for anyone studying for an upcoming test!
FrameFix is a Lancashire based manufacturer of window fixing brackets and window components suitable for a variety of window profiles. Working within the HP Inman and Co Ltd family, FrameFix remains a family-run business ran by Peter Inman and his son Michael Inman.
Window fixing brackets help the frame fixing process and provide an efficient and safe method for installing window hardware. FrameFix design their window fixing brackets with joiners and fitters in mind, always providing an easy installation solution.
FrameFix's new website offers an online shop to buy a range of products including; Swish brackets and WHS Halo brackets as well as fixing brackets for Profile 22 and Kawneer windows. FrmaeFix also offer a bespoke manufacturing service on-site from its factory in the North West. FrameFix offer an efficient delivery service, and offer the ability to buy window brackets and window components in bulk.
If you would like to find out more about FrameFix's window fixing brackets and components, contact on 01282 455 455 or contact us here.