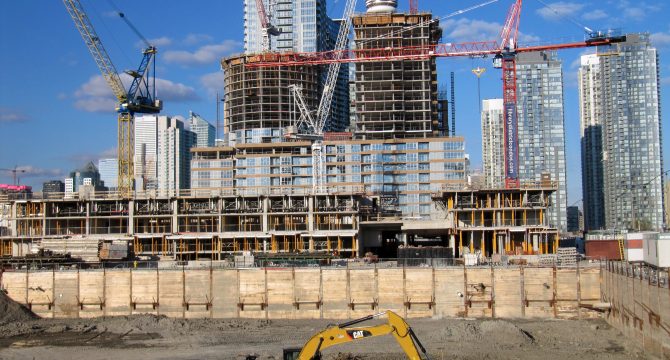 Last month, a record output was recorded in Britain's construction industry, showing a surprise rebound. The Markit / CIPS UK Construction Purchasing Managers' Index (PMI) rose to 56.0 in May, up from 53.1 in April. Any reading above 50 is indicative of growth and this month's reading was well above economists' expectations of 52.6. This is the fastest upturn since the end of 2015, showing sustained recovery in new work following a soft patch during the 1st quarter of 2017.
According to the authors of the survey, the rise during May 2017 is attributed to the sharp and accelerated rise in residential buildings. The housing sub-category has strongly rebounded following March's 7 month low. Tighter margins and labour supply have also helped to encourage optimism and growth. The Construction Sector ABI's survey which measures optimism, growth and obstacles in the construction industry reported that 71% of those surveyed believe that their companies revenue is expected to grow in 2017 compared to the previous year, with 63% forecasting a growth in profits.
A large proportion of construction companies are actively implementing cost reduction measures, this is particularly more prevalent in larger construction firms.
Colin Smith, Chief Executive Officer at Causeway Technologies commented: "The UK construction industry is facing considerable change in the coming years and needs to be well prepared for what lies ahead."
Despite the new business uptake in May, the rate is still much weaker than the post-crisis peak score of 64.4 that was recorded in January 2014.
Carolyn Fairbairn, director-general of the Confederation of British Industry, said:
"With a new government, there has never been a more important time to refocus on the economy and plan with confidence and ambition."
Building contractors flourish on certainty and facing an unpredictable future it is good to see the construction industry remains optimistic and has reacted by tightening their belts ready for the battle ahead.
Brian Berry, chief executive of the Federation of Master Builders,  comments after the revelation of Britain's hung parliament:
"In the longer term, there could be a potential silver lining for the business community as the prospect of a hard Brexit now seems less likely.  This could be a positive for business leaders who are concerned about a broad range of issues – for the construction sector, our greatest concern is that the flow of migrant workers might be reduced too quickly and before we are able to put in place a framework for training sufficient UK workers to replace them."
FrameFix from the home of HP Inman and Co Ltd, designs and manufactures a full range of window fixing brackets and window components. HP Inman and FrameFix remain family run businesses, ran by Peter Inman and his son Michael Inman.
Window fixing brackets play an important role in the easy installation of safe window profiles. FrameFix's window fixing brackets are designed for the specific needs of joiners and fitters to allow easy installation.
FrameFix continues to develop and grow year on year, due to its customer focus. FrameFix manufactures and designs window fixing brackets to suit any window profile, its new website has an extensive product selection that is easy to navigate. FrameFix also offer a bespoke manufacturing service, from its factory facilities in the North West, they it is able to produce bespoke window fixing brackets on-site.
FrameFix offers an efficient delivery service, where clients can purchase window brackets and window components in bulk.
To discuss your window component and window bracket needs contact us here.